Through a simple set of questions and sliders, d8r8r helps you recognize relationship patterns you might not otherwise notice, and see how they trend over time. We like to think of it as "quantified self-help".
Why was d8r8r created?
Everyone falls into patterns of behavior, and dating is no exception. d8r8r helps you see the bigger picture of those patterns, however amusing or tragic. Ce est l'amour et la vie!
How does it work?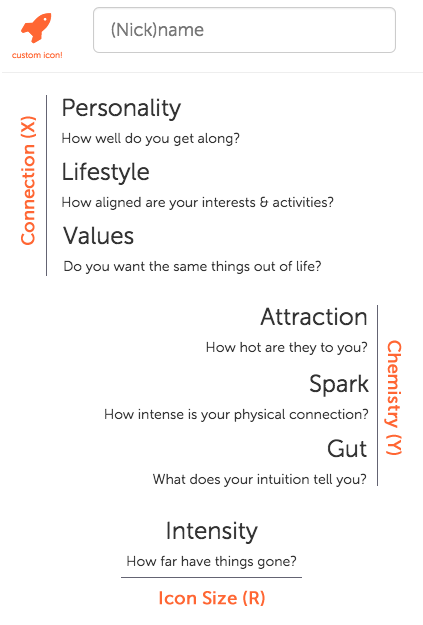 Who's behind it?
d8r8r is the brainchild of Familian&1, a visual insights + interfaces consultancy in San Francisco. Contributors include Seth Familian (vision + design), Idan Bercovici (full-stack development), Yea Afolabi + Russ Uman (concept development), Kim Hunter, Theo Stites, and a few other comrades (concept refinement), plus many terrible dates who shall remain nameless.
Why isn't it online anymore?
Because online apps aren't forever! And we needed to focus on other fun projects. Still, if you'd like to see d8r8r again, please drop a line to d8r8r@familian1.com